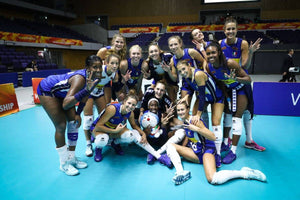 WOMEN'S WORLD CHAMPIONSHIP 2018: WITH 9 CONSECUTIVE VICTORIES, ITALY'S WOMEN GO THROUGH TO POOL F. NETHERLANDS BEAT SERBIA 3-0!
Ninth consecutive win at the World Championship for Italy's women's national team, that, after having beaten Russia, showed no mercy when it came to beating the world champions from the United States 3-1 (25-16, 25-23, 20-25, 25-16).
Italy's women finished at the top of Pool F (with 9 wins and 27 points), and were the only unbeaten team in the first two rounds of the tournament.  
A fantastic performance too by the Netherlands that, after having been beaten by Brazil - their only defeat of the first two rounds - went on to achieve a resounding 3-0 win against Serbia and win a place in the Final Six.
The draw for the third round has taken place in Osaka.
Davide Mazzanti's team have been drawn in Pool G with Serbia and Japan.  The other grouping, Pool H, is made up of Netherlands, USA and China.  
The third round matches will be played in Nagoya from 14 to 16 October.      
Here's the schedule of matches:
Wednesday 15/10: Netherlands vs USA at 9.10 am CET, Italy vs Japan at 12.20 pm
Thursday 16/10: Italy vs Serbia at 9.10, Netherlands vs China at 12.20 pm CET.
Friday 19/10: 5th and 6th place finals; Saturday 20/10: 3rd and 4th place and 1st and 2nd place finals!
---