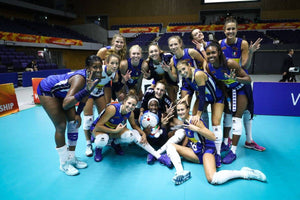 VOLLEYBALL WOMEN'S WORLD CHAMPIONSHIP 2018: ITALY TAKES SILVER!
The Italian women's volleyball team took silver at the 2018 FIVB Volleyball Women's World Championship in Yokohama, Japan on Saturday, after being defeated by Serbia 3-2 in the final. 
The silver medal capped an exciting three-week run for the Italian national team, where they garnered 11 victories and just two defeats.
This silver medal win is the first time in the last 16 years that the Italian national team has taken a medal in women's volleyball, with a young team whose median age is less than 23.
---