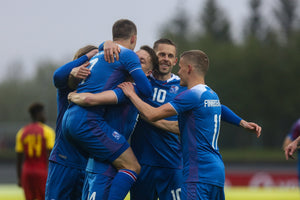 UEFA NATIONS LEAGUE: ICELAND JUST MISS OUT ON A WIN, WITH A STUNNING 2-2 DRAW AGAINST FRANCE
The Icelandic team delivered a fantastic performance yesterday evening in Guingamp, against World Champions France, leading for the entire match, until finally succumbing to the French team's late comeback.
For most of the match it was the Icelanders who were headed for a deserving win with two goals from Bjarnason and Arnason. But as the game drew to a close France managed to pull one back with Mbappé, who first forced Eyjólfsson to score an own goal and then went on to equalise with a 90th minute penalty, thus avoiding their first defeat since the World Cup.
Well done to Iceland for managing to hold France to a draw in this prestigious confrontation. Congratulations!!! 
---