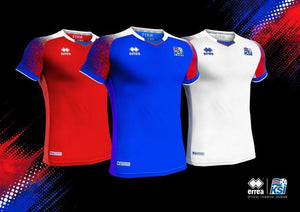 ICE, WATER, FIRE AND GEYSERS: THE NEW KIT, DESIGNED BY ERREÀ FOR THE ICELAND FOOTBALL TEAM, IS INSPIRED BY NATURE'S ELEMENTS!
Iceland is the magical land of fire and ice, including immense wealth of water, thanks to the huge number of volcanoes and geysers.
All of this harmonises in the new kits, which Erreà Sport has designed for KSÍ – the Football Association of Iceland and its first ever history making appearance in the FIFA World Cup.
After the amazing adventure in France, 2016 European Championship, a new strip, original but strongly linked to the identity of it´s nation, will accompany them to the 2018 World Cup in Russia.  
The new kit and the whole communication campaign is accompanied by the claim "Legends are born without warning" coupled with the powerful and epic image of geysers, some of the most surprising and spectacular phenomena on the surface of the earth. Rare and found only in certain areas of the world, including Iceland (the land par excellence for these incredible springs) geysers epitomize the strength and energy of this National team that has managed to weave organization, dynamic play and a great energetic spirit into its own particular identity. A team that can no longer look upon itself as a mere "splendid outsider" but one which in a very short time has managed to win the attention, favour and spotlight of the world scene. All this with the impressive power and explosive force of a geyser!
FYRIR ÍSLAND!!!
---