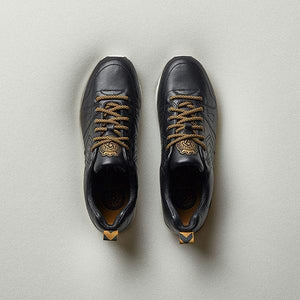 HUMMEL X 24 KILATES
Sepak Takraw is the name of a remarkable Thai sport resembling volleyball. And then again. Not the slightest. The thing is that it's not allowed to use the hands. Instead, players can touch the ball with both their feet, knees, chest, and head.  
As a result of a new co-lab with the internationally acclaimed streetwear store 24 Kilates, we now present a limited edition collection kept in all black and gold inspired by the powerful Southeast Asian sport Sepak Takraw. 
As Sepak Takraw - also known as kick volleyball – is a native sport to Southeast Asia that brings a vibrant, powerful and fierce attitude forth, this enticing collaboration centres around our vast sports heritage and 24 Kilates' profound curation of modern streetwear.
In Sepak Takraw two teams play against each other with three players on each team. The size of the court is similar to what you would know from a solid doubles match in badminton. The net is 1.52 metres high, when men play, and 10 cm lower when women play. 
And then there is just one tiny (but really hard) detail to add to the story. You play Sepak Takraw with a small and light ball of rattan - we're talking hard, flexible canes from palm trees. Ouch! That could knock anybody out. However, in some cases the rattan wood is replaced by a synthetic material.
You're only allowed to play the ball with your feet, legs, chest or head, and due to the high net, you see impressive kicks in Sepak Takraw. One of them is called the horsekick serve - a powerful kick that resembles martial arts.
NEW LIMITED EDITION COLLECTION
The new collection goes all-in on black and gold and presents four distinctive styles; two jerseys, a pair of shorts, and an updated version of the classic hummel® sneaker, the Marathona.
As the face of one of the most important protector giants of Thailand, Siam Indrajit, is seen on the front of the jerseys, his neck and the back of his head is visible on the back. In honour of Thailand's national Sepak Takraw team that models these stunning designs in the dynamic collection video, the words Team Siam Indrajit is written in Thai on the sleeves of the jerseys. Also seen is the motto of the team; Giant Battle Ready.
The Marathona sneaker is created with a premium one-piece lamb leather upper, tonal stitching, and a golden brass pendant produced in Thailand. It is sold with a leather-look shoebox with gold debossing. With metal eyelets and three different laces, the sneaker has the same details as seen on the jerseys and the shorts: golden chevron tape, a unique logo badge, and a gradient pattern in nuances of gold and black. The apparel features a golden print and a debossed drawing of Siam Indrajit.
This premium collaboration is created in an exclusive limited edition drop with only 333 pieces of each design produced. The collection is available exclusively at 24 Kilates in Barcelona and Bangkok and at hummel.co.uk and in top-tier stores like HANON, AFEW, Black Rainbow, Overkill, Titolo and Par5.
---